Hello lovahs! How is everyone's Tuesday? We're a little dreary over here in our neck of the woods, so we've been cooped up all day long, which has left me feeling very uninspired. But, a little search of bedroom images on weheartit and the inspiration comes rolling in.
Lately I've been itching to makeover our bedroom. We only have two small windows in our room, which basically means it's never sunny enough for me. It's also not big enough and our furniture is a very dark oak and very large, which also makes it appear darker. I don't want to sell our bedroom suite, because it's somewhat of a family heirloom, but I'm dying for some sunshine! So, I'm looking at colors to liven up the walls as well as new bedding. I want that clean, crisp look, but I'm not willing to break the bank to make it happen.
So, as of right now, we're just in the "planning and gathering inspiration" phase. And boy, let me tell you, there is a lot of inspiration out there! Wanna see what's currently inspiring me?
I love this simply because, despite not having a lot of windows, the room is still very light and airy. Plus, it's got that earthy, southern appeal to it that I simply adore.
Then we have this one. I'm in love with the colors and the picture frames. Everything just goes so well together.
My favorite thing about this one is the fact that the furniture is so dark, yet paired with the other colors in the room, it manages to lighten up the room. This is the exact effect that I'm going for.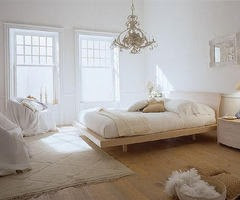 I love this one so much simply because it's so crisp and clean. Although, I could never accomplish this look without replacing my furniture, but it's still something to admire!
I want to make babies with this room. That's how much I love it. The small pops of purple make this a perfect room. And that picture over the bed? I die.
This bedding stuck out the most to me. The ruffles are so girly, yet the grey is so masculine. I love it, but I'm not sure how well it would go with the dark brown color of our furniture.
I love this one because it looks so lived in. It's so simple, yet so beautiful. I think this is definitely my favorite!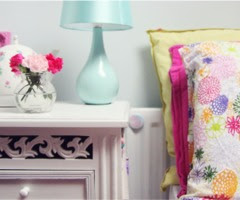 I love this lamp and the pillows together. I would never have thought they would look good together, but, I was wrong. I guess that's why I'm not an interior designer!
This is a little too much for my bedroom, but I still love it. The florals are gorgeous and the view is amazing!
So tell me, what is your inspiration? Do you have any tips or advice for me? Which room is your favorite?
- Posted using BlogPress from my iPhone