Psst... Hey y'all. I know, I know, I haven't been around here for the last week or so. In my excuse, the babe has had a wicked virus and a fever that wouldn't quit, so we've been just hanging out around these parts. Anyway, she started feeling better Thursday morning, so we hung out with daddy and put together her new play house. We love the days that we get to hang out with daddy.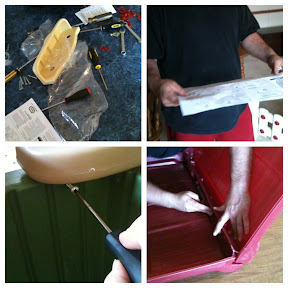 It took us awhile to get everything sorted out and in the right places.



Then, as soon as we had it completed, not only did the babe love it, the cats did also. It was pretty much a hit with everyone in the house.



Including daddy.

Hopefully everyone had a great week, and will have an even better weekend!

Pee Ess? I'm rolling out something *huge* next week. Like, huge, huge. Huge. So, be sure and come by next week. I'd say Tuesday or so. See ya then!
- Posted using BlogPress from my iPhone