So, remember the big thing that I hinted at last week? Well, guess what!? It's time to reveal it! I've been working on a new weekly segment for The Bee's Knees for a little while, and I'm so excited that I can finally tell y'all about it! It's called Trend Watch Tuesday. I'm wanting to showcase all of the bloggers who have awesome style. They're basically going to do a little guest post and talk about their style. Basically, I'm wanting all of my favorite fashionistas in one place! So, ladies and gents, we have our first featured blogger today! This chick is insanely funny, has the most adorable boston terrier, and has amazing style. She's an incredible thrifter, and can DIY like no one I know! So, without further adieu, please welcome Brandy!
I can't tell you how honored I was to have J ask to feature me on her blog. She is so funny and even though I only know her in Blogolopolous Town or Twitterville she seems so down-to-earth. My name is Brandy and I have a
blog
and
etsy shop
. I am married (no kids as of yet) and together we have a pompous boston terrier dog named Frederick Biggie Franklin. She asked me to talk about my style even though I'm not technically a fashion blogger. I have a lifestyle blog and fashion posts pop up almost weekly. I get very anxious about taking full body shots so I rarely do it and just stick to bits and pieces of what I'm wearing. I think I have a few different styles but most of all I would describe it as a comfortable, go-with-the-flow type of style. I like punk, bohemian, and sweats. Doesn't everyone? Sweats are the best that's why when dresses and leggings became popular I jumped right on that bandwagon. Any style that keeps with the un-restriction of my belly is something I'm going to hold on to. Leggings are just sweats masquerading as something less of a fashion faux pas.
Most of my clothes come from either thrift stores, gifts, or the sale rack. I even like to DIY some items too. The only thing I've purchased recently for myself at full price were my Minnetonka moccasins. I had my eye on those puppies for a long time. I waited out a few different holidays to see if anyone would have been awesome enough to buy them for me but alas I just had to do it myself. Which I'm fine with. I'm a pretty independent person albeit cheap, which is why thrifting works out for me.
I was asked what my favorite outfits and accessories are so here they are in pictures. My dream piece is a vintage quilted Chanel bag.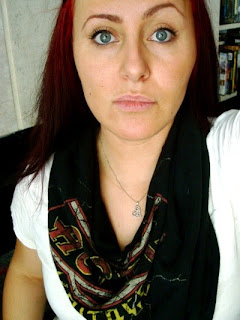 Thanks for having me
Peace out Beatrices!
-Brandy