Update: I have no idea what's going on with the link in this post, but Amber's blog URL is www.bebebirdbeck.blogspot.com Hopefully I can figure out what's wrong with the link once I get access to my computer!
Hi y'all! It's Trend Watch Tuesday again! The featured blogger today is Amber, and she's one of my favorite bloggers. Her style is awesome, she's extremely funny, her blog is so cute, plus, she and her husband are absolutely adorable together! She's also on the twit which just means that I like her even more! (anyone who's on twitter gets extra brownies points in my book!) Ok, I won't keep y'all waiting any longer! Please welcome Amber!
Hi lovelies! My name is Amber and I blog over at
I love you to the moon
. I'm so happy to take part in Trend Watch Tuesday and share with you a little bit about my style. I definitely love remixing my outfits and piecing together unlikely things. I'd describe my style as girly with a touch of edge. I love dainty dresses and skirts but usually mix it with a chunky heel, striped cardigan, and belt it all together. In the fall my favorite accessory is my leather jacket. Toughens up any outfit and somehow still looks glam.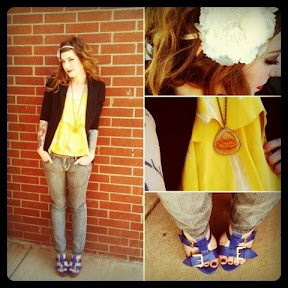 Also? I think I need an intervention. I have a problem with collecting shoes. If I find a pair of shoes under $10, I feel like I have a serious obligation to give them a good home. My closet is full of all sorts of different shoes. It makes it extra fun to piece together my outfit for the day.
Ok, so I really am such a sucker for any good deals. I don't ever buy anything full priced and will search high and low on the clearance racks for that one thing that is waiting to be uncovered.
I think my favorite outfit, lately, is this. It's ultra girly but still comfortable and wearable. I could go on a picnic, head to the movies, or sit down at a nice dinner without a problem. I'd just pack a pair of flats in my bag. Lace has my heart lately. :]
It could change any day though. I'm about to pull out my extra summer clothes from the spare closet and I can't wait to start mixing those pieces in with my wardrobe!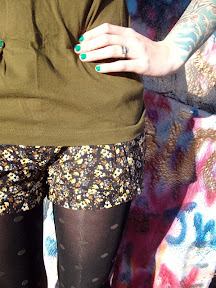 Right now I'm super loving tights, huge rings, and bright skinny belts.
Biggest piece of fashion advice is to be confident. I love seeing confidence, especially in fashion. It always has been and always will be attractive! If you want to wear something, do it! Who cares if its black and brown and that at one point it was frowned upon! (one of my favorite color combos!!) Rock it! Wear that brown belt with black heels! Bust out the ultra high waisted wide legged jeans, and the socks with heels. Just smile as you're doing it and know that you look adorable.
Hope your Tuesday is sweet!
Thank you for having me J! :]