I'm seriously loving the link-ups lately. Today I'm linking up with Katie @ Loves of Life for: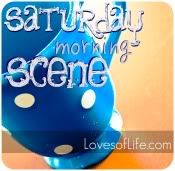 Check out my Saturday Morning Scene:



Five minutes in the (formerly clean) playroom, and it already looks like this. And this is only a third of the room. I'm too scared to show y'all the rest!

What does your Saturday Morning Scene look like?
- Posted using BlogPress from my iPhone