I hope the weekend was as good to all of you as it was to me!
M had so much fun at her cousin's birthday party, and sported her Minnie Mouse shirt like a champ (which I didn't get a picture of), and The Hubs and I had a blast Saturday night! My mom watched M, and we went out to this new place out in the sticks about an hour outside of Austin, to watch
Jason Boland and The Stragglers
play. We met up with a few friends, and didn't make it back to my mom's until after 3am. Needless to say, it was a wild night, but we definitely felt the tolls of our late night partying when M woke us up at 7 yesterday morning.
Sadly, I have no photos for proof of our good time, but I'm thinking since we had so much fun, we'll have to do it again soon. And next time, I'm definitely taking a ton of pictures. That way I at least have funny photos to show y'all of all of the drunken messes that were shaking it like they had no shame on the dancefloor!
Now, read up on a few of the lovely ladies who are sponsor swapping with me this month, and then tell me what you did this weekend!
*********
These ladies are fabulous with a capital "F", so if you aren't following them, you're missing out! Read all about them, and then go give them some love!
Nikki from Southern Momma with a Bad Mouth
Hi, I'm Nikki I blog over at Southern Mama with a Bad Mouth. I live in Georgia with my country soul mate and our wild bare foot 2 year old. My blog is about my journey through mommyhood, wifehood, workhood and crafting.
I also own a shop called Southern Survival Charms. I make military style bracelets with cute charms.
Lindsay from Littler Mudpies
Hi!! I'm Lindsay, the Momma behind Little Mudpies. I love chocolate and wine. As a Momma of two boys I am learning to Embrace the Chaos that is my life. Little Mudpies is a record of my every changing journey though Mommahood. I share recipes and tutorials too. I recently opened my Etsy Shop and I couldn't be happier. Making jewelry has always been a passion of mine, and now I get to share that. I'd love for you to stop by and say "Hi!" sometime!!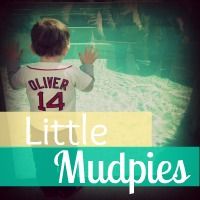 BLOG // FACEBOOK // TWITTER // PINTEREST
*********
Rachel from You Can't Google Everything
Hi everyone! I'm Rachel and I blog over at Can't Google Everything! I live right outside of Philadelphia, but I was born and raised in Florida and I will continue to wear flip flops as much as I can! My blog is a little bit of this and that! I blog about my life, recipes, pinterest and my newest obession- my pregnancy! I am currently 26 weeks pregnant and due September 6th!
I have a husband who can't sit still, so we are always trying out random new things to do! I also really love to travel, cook, go to the beach and shop. My dog Rocky is the cutest little guy you'll ever see!
*********
Jeanne from Life in Cleveland
Hi! I'm Jeanne aka Sourire11. I was an architect, knitter, and world traveler before my life was happily hijacked by a fashion obsessed redhead and a baby so chill we call him the dude. Now I blog mainly about raising them in the city I love, Cleveland, Ohio.
BLOG // FACEBOOK // TWITTER //
ETSY
*********
OK, I'm off to try to get some chores done. Or, you know, sit on the couch and watch tv. Potato, potahtoe.
Happy Monday, my darlings!