After yesterday's
post
, I started mentally setting a few goals for July, and I figured I'd share them with y'all and link up with
Meghan's
Go For The Goal series.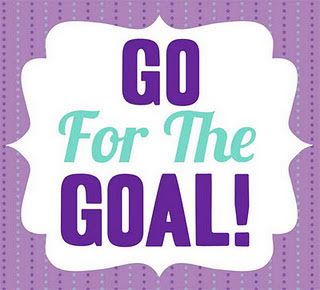 So, there are so many things I'm wanting to work on and improve, but there's no way I can do it all in a month. I figured I'd make a list of about 10 goals. That seems attainable, right? M'kay, here goes.
Stick with the Cardboard Box Diet (#cbdiet). I plan on linking up with Lauren every Thursday for an update. I know that this may not be of any interest to y'all, but you never know! If you are joining in, let me know!
Keep exercising!! I'm not doing a whole lot right now, but every little bit helps, right? Plus, I learned that a 15 minute dance party with M burns over 150 calories! Nice, huh?
Check at least 5 things off of our Summer Bucket List. It's not that hard, J.
Blog at least 3 times a week. Preferably more.
COMMENT ON BLOGS!! This is a huge one. I'm so bad about reading blogs from my phone and not commenting. If I read it, I should comment. Unless the post makes me want to call the blogger an idiot. If you don't have anything nice to say, don't say anything at all.

Speaking of comments, reply to all comments I receive. Unless they're spam, or if I can't reply back by email. We can all agree that you should have your email linked back, right? OK, moving on.

Finally get my blog planner bound or organized in a binder. (Speaking of, if you need a blog planner, Carly's your girl. She's got mad skills.)
Organize M's playroom. Seriously y'all, it's ridiculously out of control.
Get more sleep! I've been averaging about 5 hours a night, and I'm definitely paying for it the next day.
Get our laundry situation under control. How a family of three goes through so much laundry, I have no idea, but I feel like it's going to be the death of me. My tombstone will read "J, wonderful wife, mother, daughter, sister, and friend. Horrible laundry do-er. Which is how she died." Any tips and tricks for not spending every waking moment doing laundry, are greatly appreciated.
So, there ya have it. I feel like I can handle all of them, but we shall see. Hopefully the ever growing pile of laundry doesn't devour me before I can check everything off!
What are some of your goals for July? Are you linking up?
Speaking of linking up, don't forget tomorrow is Texas Tuesday! You can link up even if you aren't a Texan, just as long as it's Texas related!! Grab the button, and come back and link up tomorrow!