I am so out of sorts this week, I don't know if I'm coming or going. In fact, up until yesterday, I had no idea what day it was. I'm a mess.
Anyway, I am in no condition to blog today, but I wanted to stop in and say hey, and link up with
Ashley
for some Friday's Letters!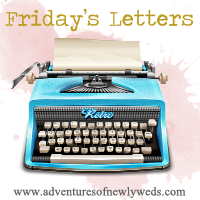 Dear M
, you're growing entirely too fast, please slow down just a bit and let Momma cherish this time.
Dear Holly and KB
, I cannot wait to see y'alls gorgeous faces, November can't get here quick enough!
Dear Color Run
, see you in November, bring your A game.
Dear C25K
, you're not that scary anymore.
Dear Neglected Hair
, I promise we'll make a trip to the salon soon, I'm just really busy.
Dear Summer
, I always get sad when you go away. Let's make these last few weeks count.
Dear Fall
, don't tell Summer, but I'm anxiously waiting for you.
Dear Fall TV Schedule
, I'm most excited to see you. Hurry back.
Dear Readers
, y'all rock my socks. Stay awesome!
OK, m'dears, I hope you all have fantastic weekends. I promise I'll show up on Monday with a smile on my face.
X's and O's