Sometime last week, I tweeted that I should do a two week crock pot challenge, where I cook every dinner in the crock pot and then blog about it. But then I followed up with, "meh, no one would care". But get this, people do care! There were so many of you who responded that you'd be interested in reading about it because you were looking for good crock pot recipes. So, I decided to do it. I took to pinterest, found 14 semi easy recipes, and headed to the grocery store.
I figured I'd break it down into two recaps, week one and week two. So far, I haven't cheated! There have been two nights were we didn't have a crock pot dinner, but for valid reasons. One night we were out of town and had dinner with family, and last night we had eaten such a late lunch, B and I didn't even eat dinner, we just fixed a light meal for M.
This is what the first week looked like:
(none of these photos are my own they're from the sites that I found the recipes on. I was so tied up in eating, I forgot to take pictures. Except the chicken and dumplings, that's mine)
Cream Cheese Crock Pot Chicken
This was really good, and oh so easy! All you need is a 2.5-3 lb bag of chicken tenderloins or chicken breasts, 8 oz block of cream cheese (the recipe says don't use fat free, I used the 1/3 less fat), one can of black beans (drained and rinsed), one can of Rotel, one can of corn, and I added a packet of taco seasoning.
Add all ingredients in the crock pot, cook on low for 6-8 hours, stirring every 2 or so hours. Shred chicken before serving. We ate this on tortillas, but I'm sure it's delicious over rice also!
Crock Pot Hawaiian BBQ Chicken
This was good, but not knock your socks off delicious like I'd hoped. We had it over rice, and it was better the next day. I will say that the Hawaiian BBQ sauce that I used was delicious! It was the Lawry's brand. Here's what you need, 4-6 boneless, skinless chicken breasts, a bottle of Hawaiian BBQ sauce, and a 20oz can of drained pineapple chunks. That's it!
Place the chicken in the crock pot, pour BBQ sauce over chicken, add pineapple chunks on top. Cook on low for 4-6 hours, or high for 2-3 hours. Shred chicken before serving. You can even make this if your chicken is still partially frozen! This is definitely an easy meal.
Slow Cooker Three Envelope Pot Roast Sliders
Holy cannoli, this were delicious! These were definitely the favorite of the week. We made them as sliders, but you could eat just the roast with veggies on the side and it would be amazing. But the sliders were fantastic. And oh-so-easy. What you need for the roast is 1 3-4 lb beef roast, 1 cup water, 1 cup salsa (weird, I know, but it works!), 1 envelope onion soup mix, 1 envelope Italian dressing mix, 1 envelope Au Jus mix. See why it's called three envelope pot roast?
Place roast in the crock pot, whisk together the water, salsa, onion soup mix, Italian dressing mix, and Au Jux mix in a bowl, pour mixture over roast, cook on low for 8-10 hours, high for 4-5 hours. Shred roast before serving.
If you're making sliders, you're going to want to make the creamy chipotle sauce that Six Sisters made for these. All you do is mix 1/4 cup sour cream, 2 Tbsp chili sauce, 2 tsp creamy horseradish sauce. It's so good!
Place open hamburger buns on a cookie sheet, place a slice of cheese on the bottom half of the bun (I would use provolone or swiss), and pop in the broiler long enough to toast the buns and melt the cheese. Once cooled enough to handled, spread the chipotle sauce on the top half, place a spoonful of the shredded beef on top of the halves with cheese, assemble the slider, and serve! I should say that for these to be proper sliders, you should use smaller rolls, but we worked with what we had!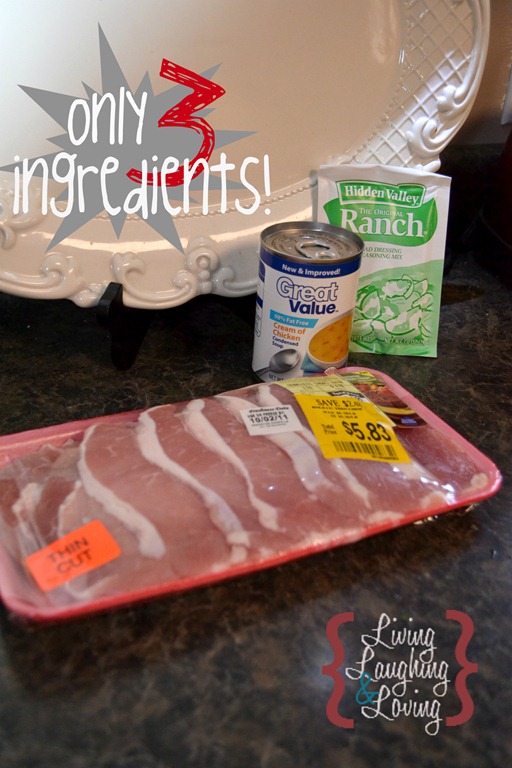 Crock Pot Ranch Pork Chops
I wanted to like these, because OMG JUST THREE INGREDIENTS!!!! but, unfortunately, I didn't. I mean, they were good, just not great, plus the pork chops pretty much fell apart before we got them on our plates. Maybe I did something wrong? All you need is a package of boneless pork chops, one package of ranch seasoning dry mix, one can of cream of chicken plus one can of water. So, I guess technically you need 4 ingredients, if you count the water as one.
Combine all ingredients in the crock pot, cook on low for 4-6 hours. It does make a really thin, yet really good gravy that goes great on mashed potatoes. Overall, I'd say they were good, just not my favorite. Maybe I'll try them again sometime. If you try them and get different results than I did, let me know!
Crock Pot Chicken and Dumplings
This was definitely tied for my favorite with the beef roast sliders! I am very picky about my chicken and dumplings, because my grandma makes the best chicken and dumplings ever. Yes, ever. Hers are the greatest, no contest. So, I'm a chicken and dumplings snob. I do like Cracker Barrel's though, just not as much as I like my grandma's. Anyway, I have never tried to make chicken and dumplings before, because I was terrified mine would be horrible compared to my grandma's, but, I decided to give these a try. Let me tell you, I'm glad I did. They weren't as good as my grandma's but they were a close second! (I liked them so much, I even shared them over at
From PDX with Love
yesterday!
(side note: how many times can I say chicken and dumplings and grandma in one paragraph? Chicken and dumplings. Grandma.)
Here's what you need:
3-4 boneless skinless chicken breasts,
2 tablespoons of butter,
2 10.75 oz cans of cream of chicken soup,
1 onion, finely diced,
1 10 oz can of refrigerated biscuits, and
chicken broth. P
ut in your chicken breasts, dump in both cans of cream of chicken, add your finely diced onion, and pour in enough chicken broth to cover it all. Put the lid on and set your timer for 4 hours. About 5 minutes before the timer goes off, open the can of biscuits, and pull apart the layers on each one. I pulled the layers apart and then pulled each individual layer in half. Put the biscuits in the crock pot, and mix everything up. You want to make sure the biscuits are down in the liquid so the flavors soak in. Set your timer again for 1.5-2 hours, I cooked mine for 2. Once the timer goes off, shred your chicken with two forks, add a bit of salt and pepper, stir everything up, and it's done!
So, there it is. Our first week!
Here are a few things I learned:
Reynolds crock pot liners are a wonderful thing. They make clean up so, so, so easy! I will never cook in the crock pot with a liner again.
Always check the temp of your meat with a meat thermometer. Better safe than sorry!
Cooking in the crock pot makes your house smell delicious! If you have company coming over, make something in the crock pot, they'll comment on the wonderful smell the minute they walk in!
I am loving this challenge, and I have a feeling I'm going to be cooking with my crock pot a lot more even after it's over!
Now I've got to run, I'm making Parmesan Honey Pork Roast for tonight, and I need to get it in the crock pot!
Here's to good eatin' my loves!